There are countless lists out there from random editors most favourite Gameboy Advance games, but if you have ever wondered which were the 10 best selling games for the Gameboy Advance and why they have been so popular, you've come to the right place.
So let's start off by saying that this list is a complete one by all sold units worldwide. You won't be much surprised by what games you'll find, but maybe by the order of that list.
10. Yoshi's Island: Super Mario Advance 3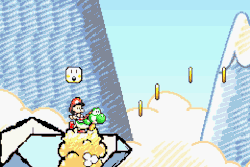 Release:
JP: August 1995
EU: October 1995
NA: October 1995
Sold copies: 4 million
Yoshi's Island was a radical sequel to Super Mario World whose cartoonish gameworld and crayon-style visuals made lot's of loyal fans and total sales of over four million units. Shigeru Miyamoto said in 1995: "The more you play the game, the more surprises it will give you. As far as the quantity and quality of game ideas are concerned, Yoshi's Island is second to none"
This game clearly owes all it's success to the fact that is was one of the best 2D platformer ever created on the SNES.
9. Pac-Man Collection
Release:
JP: January 2001
EU: December 2001
NA: July 2001
Sold copies: 2.940.000
If anyone ever doubted it, Pac-Man Collection proves that classic gaming and handheld consoles make a great combination and go together like a charm. Even if the game got some criticism for cutting out music parts of the 1993 Sega Genesis original version due to the Gameboy Advance's technical limitations.
8. Namco Museum
Release: 
Worldwide: December 2001
Sold copies: 2.9 million
The fact alone that Namco Museum for the Gameboy Advance is the 10th best selling handheld game in the US speaks for itself. The success behind the game is undoubtedly due to the strong love for arcade gaming that gamers still have to this day.
7. Super Mario Advance 4: Super Mario Bros. 3
Release:
JP: July 11, 2003
EU: October 17, 2003
NA: October 21, 2003
GB: October 24, 2003
Sold copies: 5.4 million
With the award for the best Gameboy Advance platform game from IGN in 2003 you might have thought Super Mario Advance 4 would be higher on that list, don't you? But with 2.8 million copies sold alone in the US and exceptionally high rankings on Metacritic, Pocket Gamer and Play Magazine this game is still a huge success and can't be missing in any GBA game collection.
6. Super Mario Advance
Release:
JP:  March 21, 2001
NA: June 11, 2001
EU: June 22, 2001
GB: June 22, 2001
CN: June 8, 2004 
Sold copies: 5.5 million
As one of the launch titles for the Gameboy Advance it isn't quite a big surprise that Super Mario Advance made really good numbers. In fact the title received the "Gold" sales award from the today called Association For UK Interactive Entertainment (UKIE).
Though the game was technically a re-release of Super Mario Bros 2.  it was coded from scratch and came with a whole lot improvements and changes to graphics, gameplay, audio and overall styling. Another key factor for it's big success was the fact that Satoru Iwata was the director in charge.
5. Super Mario World: Super Mario Advance 2
Release:
JP:  December 14, 2001
NA: February 11, 2002
GB:  April 2, 2002
EU: April 12, 2002
KR: September 23, 2002
CN: March 15, 2006 
Sold copies: 5.7 million
And yet another Mario platformer made it onto the list of the best selling Gameboy Advance games. With 3.2 million sold units in the US and 5.7 million units sold worldwide it's has been a huge success due to the tremendous love gamers had for the SNES original "Super Mario World".
While the gameplay and plot stayed the same, lot's of improvements have been made to Super Mario Advance 2. One of the main differences is that there's no two player option anymore, only the possibility to switch between Mario and Luigi in the game. Also both had slightly different abilities which one had to make use of in order to play through all the levels.
It also features way more items, question blocks, an introductory cinema scene, cutscenes, an alternate ending, and changes in the soundtrack.
But for all players who just want to play the good old Super Mario World version, the developers were kind enough to also implement a original remake of Super Mario World including the normal multiplayer mode.
4. Mario Kart: Super Circuit
Release:
JP: July 21, 2001
NA: August 27, 2001
GB: September 13, 2001
EU: September 14, 2001 
Sold copies: 5.9 million
Mario Kart: Super Circuit was the third installment of the Mario Kart series and the first Mario Kart game that has ever been released on a Nintendo handheld device. Not only that made it a must have for fans of the Mario racing genre, but also the 4 player mode that only needed one game cartridge makes this title a revelation for handheld gamers.
Tom Bramwell of Eurogamer wrote: "It has everything a single player, or indeed a foursome of like-minded console gamers, could ever dream of"
3. Pokémon Emerald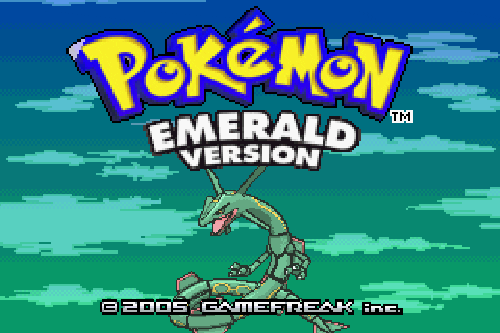 Release:
JP: September 16, 2004
NA: May 1, 2005
AU: June 9, 2005
EU: October 21, 2005
Sold copies: 7 million
The Pokémon Emerald Version is an enhanced version of Pokémon Ruby And Sapphire and the setting and plot remains largely the same as in Ruby And Sapphire. The game sold 370.000 copies in Japan on itÄs first day and was the fourth best selling game in Japan in 2004. It is ranked on place  700 on the list of the 1000 best selling games in Japan for 2004 and is the only Gameboy Advance game on that list.
In the US it was the number one game in may of 2004 and hit second spot in june that year, defeated by Grand Theft Auto: San Andreas for the XBox. It was the second best-selling game for the first half of 2005.
Readers of IGN ranked Emerald as the most popular Gameboy Advance game for the 2005 holiday season.
2. Pokémon FireRed and LeafGreen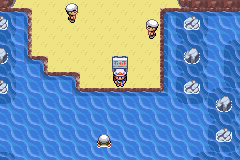 Release:
JP:January 29, 2004
NA:September 7, 2004
AU:September 23, 2004
EU: October 1, 2004
Sold copies: 12 million
The FireRed and LeafGreen titles were enhanced remakes of the 1996 Pokémon Red And Blue and were in fact the first enhanced remakes of older games within the Pokémon franchise. The games were bundled with the Game Boy Advance Game Link Cable, through which connected players could trade or battle.
Although critiques for the games were good but not overwhelming the game sold a total 0f 12 million copies worldwide which is a stunning success. The game is currently holding an aggregate score of 81 on metacritic. Craig Harris of IGN gave it an "outstanding" 9.0 of 10 rating.
1. Pokémon Ruby and Sapphire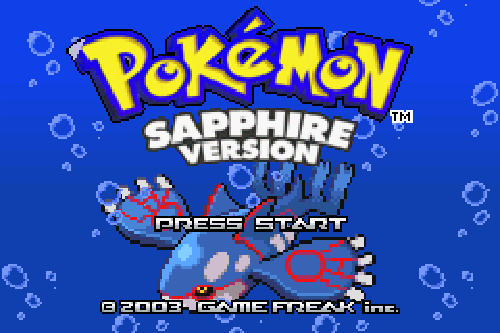 Release:
JP: November 21, 2002
NA: March 19, 2003
AU: April 3, 2003
EU: July 25, 2003
Sold copies: 16.2 million
The Ruby And Sapphire games were the first installments of the third generation (also known as the advanced generation) of the Pokémon video game series. The game came with not much changes to the overall gameplay of the previous games and the controls were also largely the same as in older versions.
Despite the criticism about that fact the games got mostly very positive reviews and was a critical and commercial success with 16 million copies sold worldwide. That makes the games the number one best selling titles for the Gameboy Advance.
IGN gave it an "amazing" 9.5 out of 10 score, and rewarded them the Editor's Choice Award just like GamePro. GameZone also gave it a 9.5 out of 10 score.
ComputerAndVideoGames.com called the gameplay "incredibly compelling and addictive", and GameZone called it "a cakewalk from start to finish".
So what is your favourite game out of this list? Do you think a game is missing or doesn't deserve to be there? Let us know in the comments!